Bearna Na Forbacha
Aontaithe*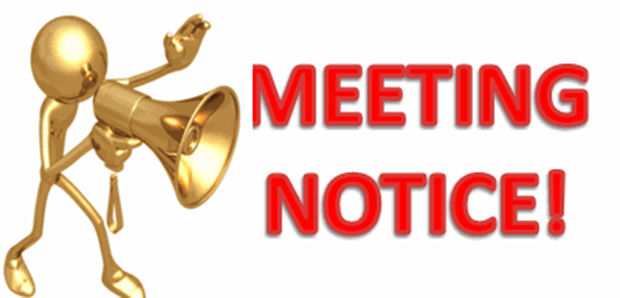 We have sent an urgent email to all of our coaches, asking them to attend a meeting next Monday evening.
We need to prepare our plans for 2018, and to obtain their views on a range of issues that affect the Club and its continued development.
In the email, our chairman, Kieran Devenish, wrote:
"One of the issues that we need to discuss is how we should work together to develop a full-size grass pitch at Furbo.
"The Club has tentatively secured a Sports Capital Grant of €50,000 towards this project – but that Grant will be lost unless we start the work within the next two years.
"And because we regard our coaches as an integral part of this Club – it's 'beating heart' – it's essential that we find out your views on how the club is being managed and what needs to be done to improve things."
This meeting will be held between 8.30pm – 9.45pm next Monday, 29th January, in the function room at the Twelve Hotel, Barna. (An Beanna Beola - top Floor).
All coaches are asked to reply to the email, indicating if they can attend or not.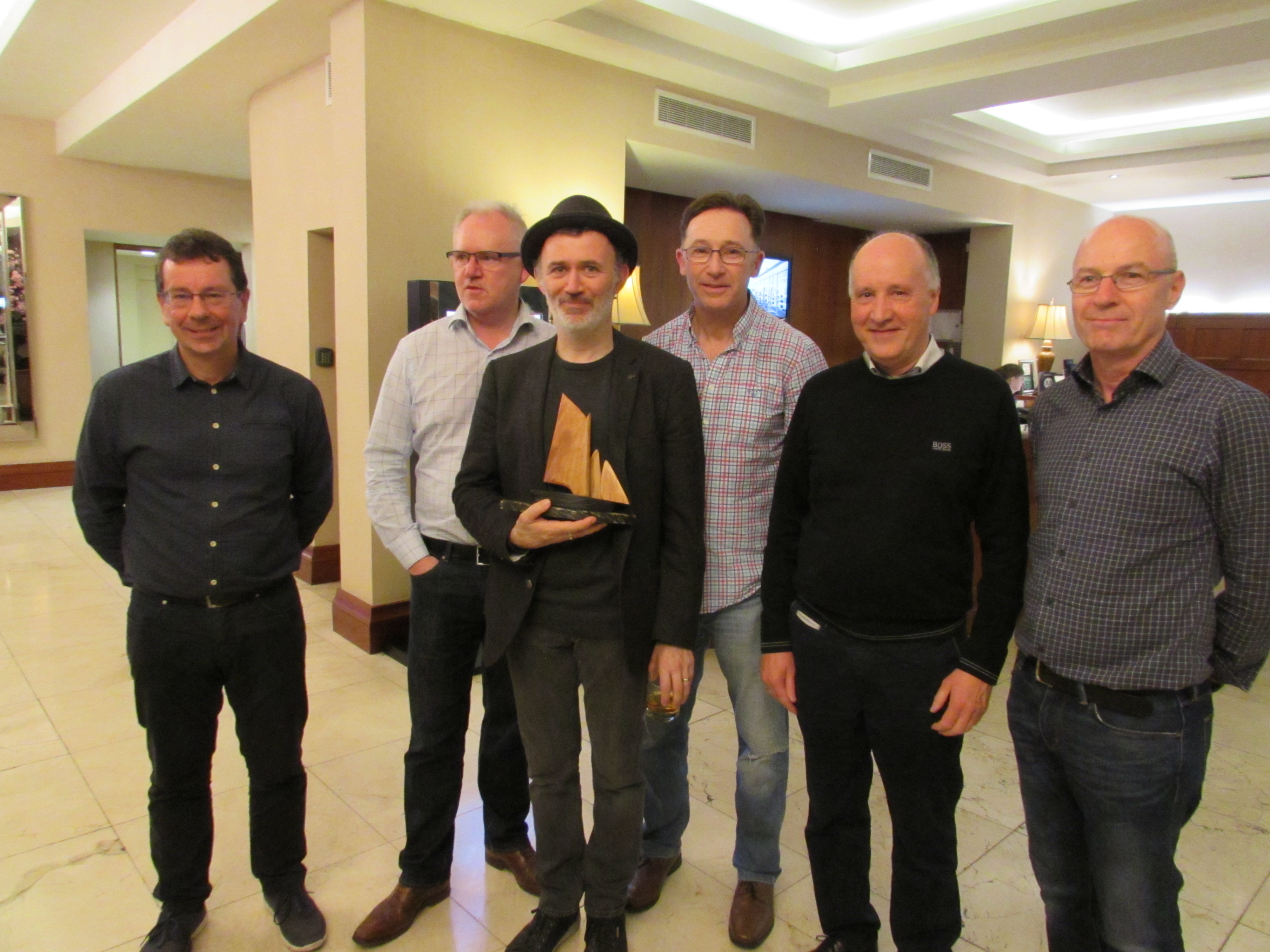 Club chairman, Kieran Devenish, made a presentation to Tommy Tiernan, in thanks for donating his fee from last night's SOLD OUT gig to Bearna-Na Forbacha Aontaithe.
It is a cherry and bog pine 'Galway Hooker' created by Tom Taaffe, Furbo.
The inscription under the piece reads simply: B na F 18th October 2017, To Tommy.
The club is currently embarking on a massive €1M development at Na Forbacha, with the first phase - astro pitches - nearing completion. Tommy's generosity will mean so much to the children from the Connemara Gaeltacht playing soccer today, but also those into the future.
Thanks also to all the staff at the Salthill Hotel, who gave us the use of the ballroom for free.
Pictured are Club Executive members: Noel O'Toole, Liam Roche, Niall Rooney, Kieran Devenish, and Joe Reddington.
(Watch Kieran's short speech on our Facebook page).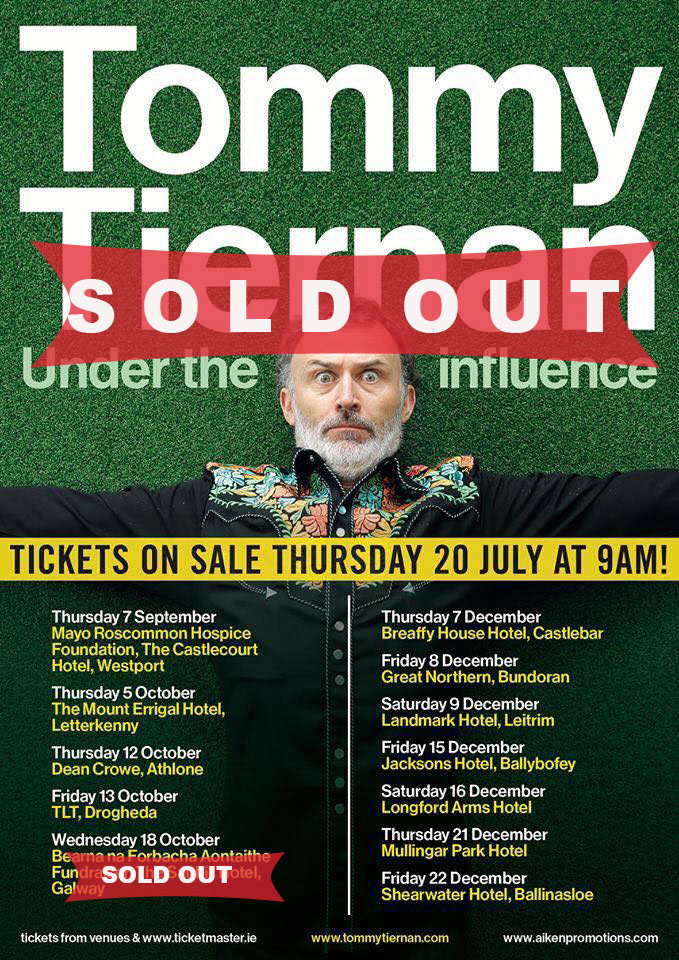 We are beyond delighted to report that our main club fundraiser for 2017 has SOLD OUT! We can't believe it.
Our sincere thanks to BnaF supporter, Tommy Tiernan, along with Yvonne and the rest of his team, for agreeing to do this for us. And to you, our friends and family, for buying the tickets!
Looking forward to seeing you all on the 18th - arrive early to secure good seats! It's gonna be a night to remember!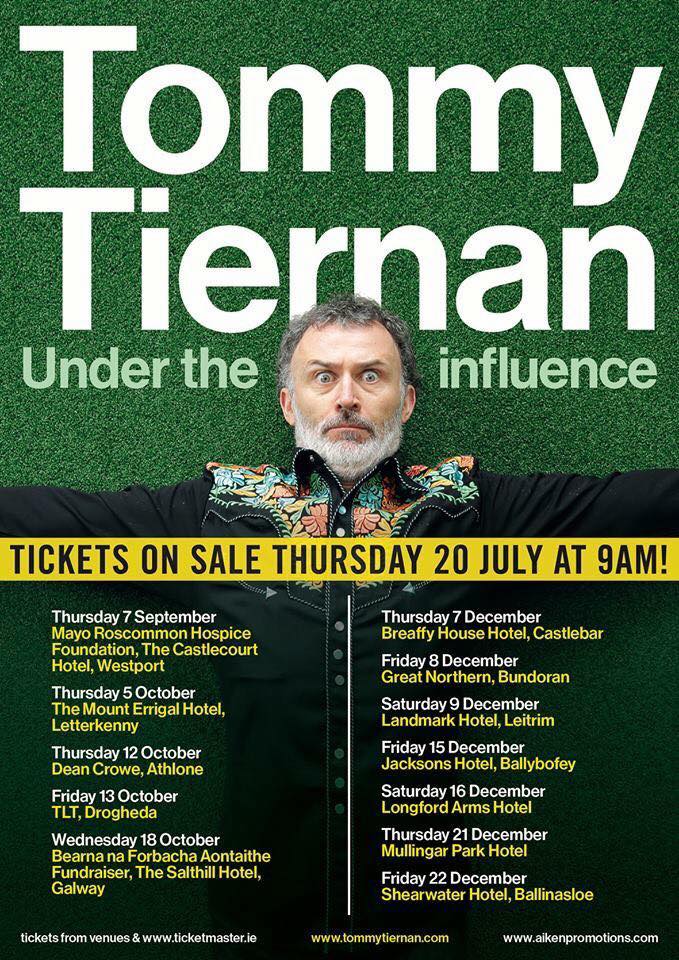 We are delighted that Tommy Tiernan has agreed to give us the proceeds from the Galway leg of his upcoming Irish tour on October 18.
We have to also thank Kerry in The Salthill Hotel for giving us use of the venue free of charge.
Tickets for the gig are available to buy locally - from Clarke's Supervalu and the hotel itself, or online via Ticketmaster.ie, TommyTiernan. com, or aikenpromotions.com.
This will be the main fundraiser for the club this year, so we would ask you to please support it - maybe buy tickets for someone else if you cannot make it yourself.
Also, we will be holding a massive raffle on the night, so prizes will be most welcome!

We sent over 100 letters to members outside the parish during the summer, in the hope that they would help the club through our new Supporters' Draw. Our members in the parish are already contributing through the 'Fiver A Week' fundraiser - which has been an amazing help in getting our astro pitch to its current state.
The membership subs we receive cover only about 60% of our annual expenses, not to mention this being a time of immense growth for the club - our astro pitches are due to be open within weeks.
If you received a letter, we would appreciate if you could return the bank mandate's in the self-addressed envelope to Niall Rooney as soon as possible.
Below is the text of the letter sent by our club chairman, Kieran Devenish:
-----------------------------------------------------------------------
Attached to this letter you'll find – not one, but – two very important 'Supporter Sheets.' The purpose of each of these sheets is to raise vital new funds to help our club secure exciting new training facilities and realise a long cherished dream of having a full-sized grass playing pitch of our own. That's our goal! And by working together as a team, I know we can do it.
The first – and most important - Supporter Sheet of all is for you. That's the green one. And please! Please say you'll support us as generously as you can by completing and returning your green Supporter Sheet to us as quickly as you possibly can.
Having you on our support team will be wonderful! It will be a hugely positive step forward for all of us in Bearna na Forbacha Aontaithe Club. But - and nobody will appreciate this better than you do - like every successful team in our game, the more 'strikers' we have available to us, the more opportunities we have of achieving our goal.
And that's what your second 'Supporter Sheet' – the white one – is all about. Please, before the week is out, will you strategically pass your second supporter sheet (the white sheet!) to a friend, a work colleague or another member of your family and ask them if they also will support us in this community-wide task.
Tell them that by making a €10 monthly donation to the Bearna Na Forbacha Aontaithe Club Draw, not only will they be actively supporting the development of one of our own local clubs, but they will immediately secure for themselves opportunity after opportunity to win some fabulous monthly draw prizes.
There'll be prizes every single month for the coming year! This means that month after month after month, somebody's got to win one of our super monthly prizes. Wouldn't it be wonderful if that 'somebody' was you, or if it was someone who you personally encouraged to pitch in and support us.... indeed you could both be winners on different months.
But first, we need your support... and then we need you to help us to actively spread the word by passing on the white sheet to another family member or a friend and actively encouraging them to become a supporter too.
As I said at the outset of this important letter to you... if as many club members like you as possible pitch in to support this local fundraising campaign, together we can achieve our goal and everyone in our community will benefit.
Please say you'll support us.
Kieran Devenish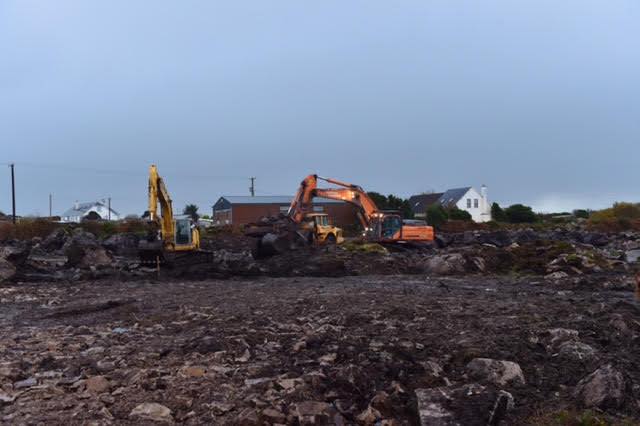 Ta P & D Lydon ag obair go crua..... suas sna Forbacha.
There has been a massive change to the landscape of our site at Knockavoddy, Furbo, in a matter of weeks.
Our contractor, P & D Lydon, has had three heavy machines working during daylight hours for the past month or so.
One of the biggest challenges for us at this site had been dealing with the terrain - an expensive headache - as one part was full of rock, and the other was bog!
Our first phase was dealing with the rock, and at this stage, most of it has been broken down.
The site is almost at the required level to add the 'core', and it will not be long after that before our astro pitches are in place.
Our hope is that these will be ready to use early next year.
When we devised this plan, we wanted to provide facilities that would serve the existing needs of the club/community, but also provide for the future. So, with this in mind, we will be installing one large astro pitch, which can be divided into three smaller pitches for training.
The largest one is big enough to be used for a nine-a-side match at U12 level. The full measurements are 74x46m.
Our contractors are also due to fill the boglands in preparation for our second phase, which is an international sized pitch.
Our sincere thanks goes to the neighbours for their understanding, and to everyone from the club who has worked tirelessly to make this a reality for the children of now and into the future.
It goes without saying, that this is a very expensive undertaking, so if you can help with fundraising, please contact us.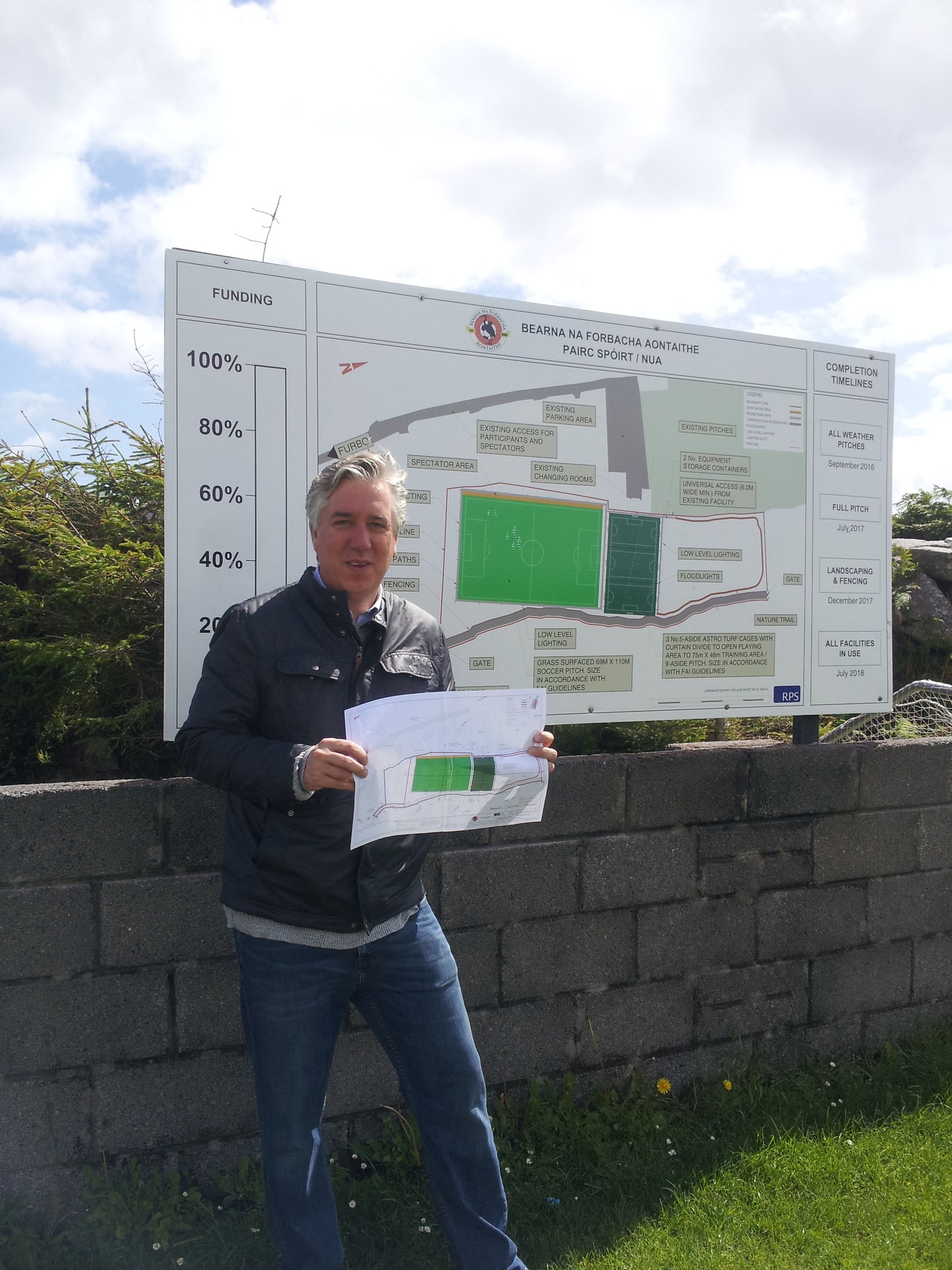 Minutes of AGM of Bearna Na Forbacha Aontaite ('BnFA'
held 5th October 2016 at Bearna Youth Hub (8.45 – 10.00pm)
1. Minutes of Previous AGM (circulated in advance) These were read and approved.
2. Chairman's Address (Presented by Kieran Devenish)
2.1. Development of new facilities Significant progress has been made since the last AGM: 2.1.1. The Club has bought 6.7 acres of land at Furbo (originally funded by a credit union loan and loans from members)
2.1.2. RPS Consulting Engineers (our professional advisors & project managers) completed the design of the facilities; put the work out to competitive tender, in line with public procurement requirements; assessed the tenders received and agreed a 'best and final' offer with contractors.
2.1.3. The Club has formally appointed a contractor (P & D Lydon Ltd.) to do the work - and has signed the necessary contract documents for this.
2.1.4. Phase 1 of the project (development of the 3 Astro-turf pitches) should be in place by the end of December 2016. In addition, the rock-breaking and grounds works needed the development of the full soccer pitch (Phase 2) will be carried out.
2.1.5. The Club has secured Sports Capital funding of €110,000: and currently has an application in with Rionn na Gaeltachta for separate funding
2.1.6. BnFA has negotiated various finance facilities from Clann Credo, a social investment fund, to assist in developing the facilities and in re-financing the credit union loan that was originally taken out to buy the lands at Furbo. Note, however, that because of a shortfall in funding, the Club has had to scale back the project – but, hopefully, if additional monies (e.g. through grants, fund-raising efforts etc.) can soon be found, the job will be completed as originally envisaged.
2.2 Fund-raising Further, and immediate, fundraising is essential to enable the Club to:
• Complete Phase 1 of the project (see above) • Meet its substantial monthly repayment commitments
• Run the Club Note: only 60% of the running costs are covered by membership subscriptions. Key points mentioned were:
• The Club needs to set up a Fundraising Committee to organise a couple of large events each year: and we'd delighted to hear from anyone who's prepared to help out with that.
• The Club will take immediate action to ensure that all membership subscriptions are collected. Given that the Club needs every euro it can get – and to be fair to those who do pay – it has to enforce the 'don't pay, can't play' rule.
• The cost of renting all-weather training facilities from other clubs is substantial – and, thus, every player who uses such facilities is expected to pay the agreed contribution.
• Club members were actively encouraged to participate in the Barna Furbo Sports Fund initiative (See also AOB below).
2.3. Acknowledgements and sincere thanks were expressed to all those who dedicate so much time and effort to the Club, especially the coaches and members of committees/ sub-committees and those on the Executive.
Without their invaluable contribution, the Club simply couldn't function. Special thanks were also expressed to those members who participate in the Club's monthly draw and to those who kindly advanced long-term interest-free loans to the Club. Without their ongoing assistance, the Club could not have gone ahead with the development of the amenities at Furbo.
3. Secretary's Report (Presented by Niall Rooney) Highlights (in no specific order):
• Our U10 Girls winning the Galway Cup U10 in EDP last Summer – first girls trophy ever won in the Club
• The significant growth in numbers in our underage Academy
• Our U14's winning the 2016 U14 Connacht Shield in May 2016.
• Our Adult squad getting to the Final of the Connacht Shield in EDP in 2016
• The recent appointment of Joe Reddington as the Club Language Officer.
• Securing Sports Capital Grant aid of €110,000 in October 2015
• The signing of the contract on Tuesday this week for the 1st Phase of our new development at na Forbacha.
• The excellent Fiveraweek Fundraising Campaign pulled together over the Summer months by Kevin Kelly to part fund much need facilities for all codes in the Parish
• The launch of the Club's BraveHearts Lotto in conjunction with local heart Charity Croí during the Summer
• The current revamping of the Club web site – work done by DG Digital Media.
The Secretary thanked the following people and associations for their help, time, guidance and assistance to him and the Club over the last 18 month: our coaches & parents, the FAI (CEO John Delaney in particular),RPS our Consulting Engineers, Jack Fitzgerald of Kennedy Fitzgerald Solicitors, GFA, Coiste Pairc na Forbacha, Bearna GAA , BnF Hurling Club and many others.
4. Treasurer's Report (Presented by Liam Roche) The attached Report was circulated to attendees: and key points were explained by Liam. The adoption of the Report was proposed by Vincent Gavin and seconded by Ray Nolan: and formally approved by the Meeting.
5. Change in Legal Status The following Motion was put to the Meeting: and its purpose was explained by the Chairman: That:
• With immediate effect, all sporting and business activities of Barna Furbo United FC (Bearna Na Forbacha Aontaithe) – which is an unincorporated members' association - will be channelled through Bearna Na Forbacha Aontaithe Cuideachta Faoi Theorainn Rathaiochta.
• All monies held by, or due to, Barna Furbo United FC (Bearna Na Forbacha Aontaithe) – now or in the future – will be transferred into the ownership of Bearna Na Forbacha Aontaithe Cuideachta Faoi Theorainn Rathaiochta.
• At a future date (to be decided by the Executive Committee) Barna Furbo United FC (Bearna Na Forbacha Aontaithe) will cease to exist as a distinct legal entity. The Motion was proposed by Noel O'Toole and seconded by Ray Nolan: and was unanimously approved by the Meeting. There were no other Motions to be considered.
6. Any Other Business Among the points discussed were:
6.1. We need to get more people involved in the Executive Committee (particularly parents of young players) who would add value to the Club. Currently, coaches were being asked to do more than they should be doing.
6.2. An open day should be held (possibly in August) for all Academy children and parents.
6.3. Even though fund-raising was vitally important, our main focus should remain on soccer. That's why it's essential to have a separate fund-raising committee.
6.4. Noel O'Toole explained the purpose of the 'Fiveraweek' campaign and strongly urged everyone to get involved in promoting it.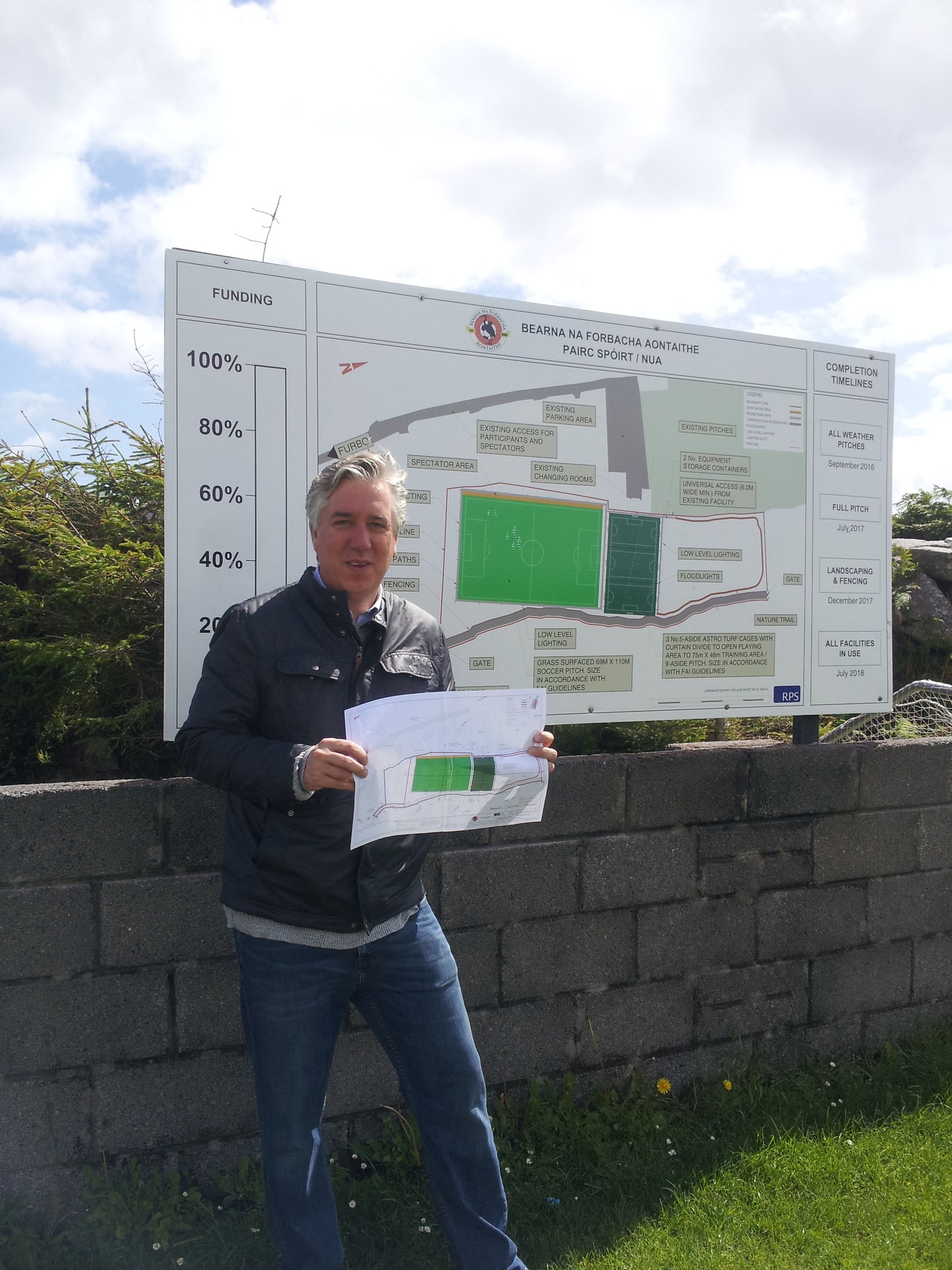 We can hardly believe that work has already started on our three new all-weather astro pitches at Na Forbacha.
It was a massive leap of faith for the club to purchase rocky land alongside the existing playing fields in Knockavoddy, but it is certainly coming to fruition.
We hope that this first phase of the development will take approximately 4-5 months, and that the pitches will be ready to use in early 2017.
Not alone will it provide our players and community with a world-class training facility, but also a source of income, and an invaluable asset for the future.
The second phase of the facility - a full size grass pitch - will start at a later date.
FAI chief, John Delaney, visited the site last year, and pledged his full support.
All of this work comes at a massive cost, though, so if you can join our fundraising committee please contact us.
/